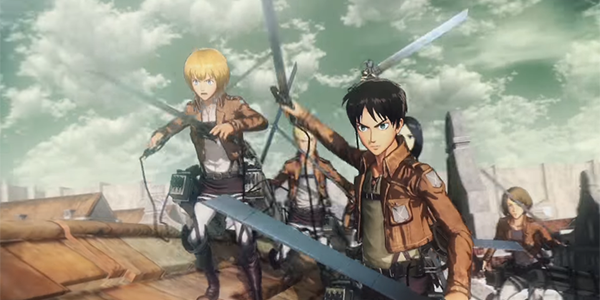 Come promesso da Koei Tecmo ecco a voi l'annuncio ufficiale della Treasure Box Edition di A.O.T. Wings of Freedom, gioco noto in Giappone solo come Attack on Titan, che sarà disponibile al lancio del gioco solo su PlayStation 4.
Questa particolare edizione del titolo sviluppato da Omega Force, che sarà disponibile dal 26 agosto anche su PlayStation Vita, PlayStation 3, PC e Xbox One, includerà:
A.O.T. Wings of Freedom PS4 Game.
Original Game Soundtrack.
Official Scouting Report (an artbook showcasing the range of characters, weapons and environments the game has to offer, as well as an insight into various parts of the game).
Muffler Towel featuring a heroic design of Eren, Mikasa and Levi.
6 Pin Badges with two different designs for each character.
Digital download code for an alternative special costume for Armin.
Koei Tecmo, putroppo, non ha rivelato nulla per quanto riguarda l'arrivo di questa edizione di A.O.T. Wings of Freedom anche su altre piattaforme.
Check out the #PS4 special edition of #AOT Wings of Freedom. https://t.co/1J3UyGsC1L #KTfamily #attackontitan pic.twitter.com/NGEetTxvxi

— KOEI TECMO EUROPE (@koeitecmoeurope) May 12, 2016