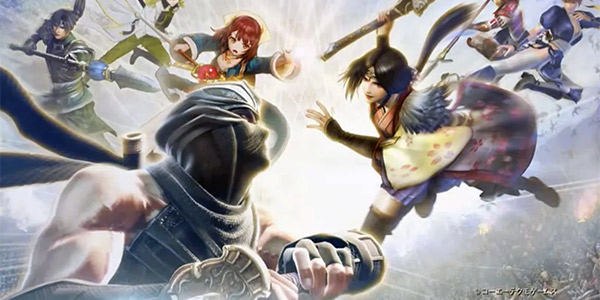 Koei Tecmo e Omega Force ci regalano quest'oggi tante immagini, informazioni e un nuovo trailer dedicati a Musou Stars, titolo in sviluppo per PlayStation 4 e PS Vita il cui rilascio, purtroppo, è previsto unicamente in Giappone.
I personaggi mostrati nelle nuove immagini sono Lu Bu di Dynasty Warriors, Ii Naotora di Samurai Warriors, Oda Nobunyaga di Samurai Cats e Laegrinna di Deception.
Il lancio di Musou Stars in Giappone è fissato a marzo mentre noi attendiamo eventuali dettagli sul possibile arrivo in Europa del gioco.
Lu Bu from Dynasty Warriors (voiced by Tetsu Inada)
A master of the military arts and particularly skilled in mounted archery. His exceptional skill earns him praise as a warrior among warriors, just as Red Hare is praised as a horse among horses. Lu Bu is a firm believer in the right of might and tends to ignore social niceties.

Ii Naotora from Samurai Warriors (voiced by Yuka Saito)
The ruler of the Ii clan from Enshū that serves the Imagawa clan. With no male heirs to succeed the Ii clan, she takes on a male name and assumes leadership of the clan. Despite her concerns that she is not fit to rule, her compassion causes her to fight to deliver peace to Enshū.

Oda Nobunyaga from Samurai Cats (voiced by Shunsuke Takeuchi)
A Sengoku soldier of fortune, needless to say. A Japanese-style cat. He was born as the son of Oda Nobumiide, lord of Furuwatari Castle in Owari Province. He is rough at first glance, but is actually compassionate and has a warm heart. He continues to fight everyday to establish military rule in a disorderly Japan.

Laegrinna from Deception (voiced by Yuka Saito)
Known as the Devil's daughter, she is said to have been birthed from a splintered-off fragment of his very soul, although the truth of this is shrouded in mystery. She has stepped out unto the mortal realm accompanied by her three Daemons in order to collect the Holy Verses needed to break the seal that imprisons her father. Without a trace of pity or emotion betrayed by her deep gaze, she summons and sets traps to dispose of humans who get in her way.