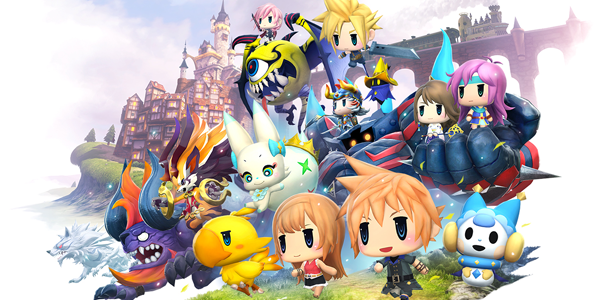 World of Final Fantasy si mostra sulle nostre pagine con una nuovissima galleria d'immagini davvero molto ricca. Infatti, quest'oggi arrivano a noi alcuni scatti che riguardano personaggi davvero famosi della serie di Square Enix come Terra, Bartz, Boko e Gilgamesh e non solo.
All'interno della gallery riportata in calce a questa news abbiamo la possibilità di presentavi anche alcuni Mirages, ad esempio Quacho, Sharqualm, Mega Sharqual, Kraken e Bahamuth:
Lush Environments, Classic Characters, Mysterious Mirages and More Showcased in New World of Final Fantasy Screenshots

Square Enix today released new screenshots for World of Final Fantasy, showcasing the gorgeous environments, labyrinthine dungeons, legendary characters and various Mirages (monsters) in the world of Grymoire.

The new images depict heroes Reynn and Lann as they encounter the Quacho Queen, who dwells in the wondrous Sunken Temple, and Ultros, the popular octopus-like Mirage first featured in Final Fantasy VI. New Mirages like the quacho, sharqual, mega sharqual, mindflayer and kraken roam these stunning new environments. Classic characters – including Boko, Terra, Bartz and Gilgamesh – return in adorable chibi-style art. The Mega Mirage Bahamut can also be seen using his powerful Megaflare to annihilate everything in sight, while the ultra-rare Bismarck, known as the "shining demon," lurks in the deep seas.
About World of Final Fantasy

World of Final Fantasy, a brand-new title in the Final Fantasy franchise, combines classic RPG gameplay mechanics with fresh and imaginative toy-like visuals to welcome both fans and newcomers to the series. Players will lead a pair of twins through varied Final Fantasy worlds and capture and raise such adorably familiar beasts as cactuar, chocobo and behemoth to discover alternate forms and learn new abilities.

World of Final Fantasy will be available on October 25. The Collector's Edition is available exclusively through the Square Enix Online Store.