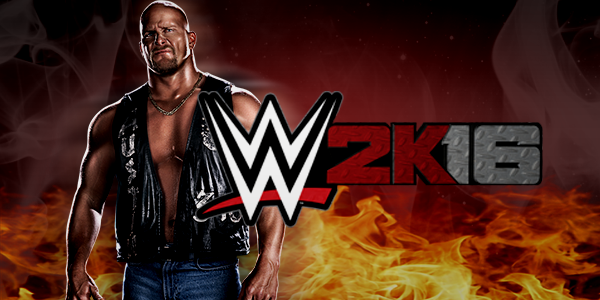 WWE 2K16 è il nuovo capitolo della famosa serie picchiaduro incentrata sull'universo della Word Wrestling Entertainment. Lo sviluppatore del gioco ha rivelato l'elenco completo di tutte le finisher presenti all'interno del gioco e che potete trovare di seguito:
12 Steps
3:16 Thesz Press
Abdominal Stretch 2
Air Raid Siren
Arm Trap STO
Arm Wrench DDT
Attitude Adjustment 1
Back/Neckbreaker Combo
Back Neckbreaker
Backbreaker & Leg Sweep
Basement Dropkick 3
Beauty Shot
Belly to Back Mat Slam 2
Bow & Arrow
Bowing Leg Drop
Brain Chop 1
Brainbuster 2
Bridging Butterfly Suplex
Canadian Backbreaker 3
Capture Suplex
Caribbean Kick
Chicken Wing Gutbuster 2
Chokeslam 3
Clothesline 20
Cloverleaf 2
Codebreaker 1
Corkscrew Senton 2
Corner European Uppercut
Corner Facebuster
Corner Stomps 2
Corner Trapped Clotheslines 2
Coup De Grace
Cravate Neckbreaker
Crouching Uppercut 2
Curb Stomp 1
Curb Stomp 2
Dark Matter
DDT 7
Deadlift Gutwrench Suplex 2
Diamond Dust
Director's Cut
Diving Clothesline 5
Dominator
Double Leg Drop to Groin
East River Crossing
Electric Chair & Roading Elbow
Empire Elbow
Enzuigiri 5
European Uppercut 3
Face Stretch 2
Face-Plant
Falcon Arrow 3
Fallaway Package Powerbomb
Famouser 1
Famouser 2
Figure Four Sharpshooter
Final Cut 1
Fisherman Driver 2
Fisherman Neckbreaker 2
Fist Drop 1
Flapjack 4
Flatliner 1
Float-Over DDT 1
Float-Over Neckbreaker 2
Float-Over Snap Suplex
Foot Press 1
Forearm Smash 7
Frankensteiner 2
Full Nelson Slam 3
G.T.S. 3
Gentleman's Clutch
German Suplex 5
Go Home Driver
Gut Kick & Forearm Smash
Half & Half Suplex 1
Half & Half Suplex 2
Half Nelson Bulldog
Handstand Headscissors Takedown
Headbutting Ram-Paige
Headscissors DDT
Helluva Kick 2
Hesitation Dropkick
Hip Press
Hollywood & Vine 1
Hollywood & Vine 2
Impaler DDT 3
Inverted Powerslam
Itami Strike Combination
Jumping Clothesline 1
Jumping Corner Clothesline
Jumping Knee Strike 4
Knee to Groin
Kneeling Facebuster
Kneeling Jawbreaker
KO Cannonball
Lariat
Lawn Dart
Leg Drop DDT
Leg Trap DDT
Lift & Cutter
Lift Inverted DDT 1
Lift Inverted DDT 2
Lift Single Underhooker DDT 2
Listo Kick
Lo Down Leg Drop
Lost in the Woods
Love Tap Head Strike
Low Down
Lunatic Fringe Elbow Drop
Mandible Claw 3
Meat Hook Clothesline
Middle Rope Corkscrew Elbow
Middle Rope Crossbody 1
Middle Rope Crossbody 2
Middle Rope DDT
Middle Rope Front Dropkick 1
Middle Rope Front Dropkick 2
Middle Rope Missile Dropkick
Middle Rope Senton 1
Middle Rope Senton 2
Middle Rope Shoulder Block
Mr. McMahon Stunner
Mudhole Stomps 2
Neutralizer 2
Oklahoma Stampede
Olympic Slam 3
Package Piledriver
Pedigree 3
Pele Kick 1
Pele Kick 2
Pendulum Backbreaker Stretch
Phoenix Splash
Pop-Up Powerbomb 1
Pop-Up Powerbomb 2
Powerbomb 1
Powerslam 5
Pumphandle Backbreaker
Pumphandle Drop 3
Pumphandle Drop 4
Pumphandle Neckbreaker 2
Pumphandle Suplex 1
Pumphandle Suplex 2
Rebound Elbow Strike 2
Release Tiger Bomb
Rib Buster
Ricola Bomb
Roading Swiss Uppercut
Rock Bottom 3
Rocker Dropper
Rolling Neckbreaker
Rolling Savate 3
Romero Dragon Sleeper
Rope Hung Knee Strikes 2
Rude Awakening 2
Running Bella bUster
Running Bionic Elbow
Running Chop
Running Corner Knee Strikes
Running Euro Uppercut
Running Hip Attack 1
Running Senton 3
Russian Leg Sweep 2
Salida Del Sol
Sambo Suplex
Samoan Driver 2
Samoan Drop 3
School Boy Powerbomb
School Boy Superkick
Sharpshooter 1
Sharpshooter 2
Sharpshooter 4
Shotgun Dropkick
Shoulder Tackle 1
Shoulder Tackle 2
Shoulder Tackle 3
Shoulder Tackle 4
Sidewalk Slam 3
Single Leg Dropkick 2
Single Underhook Facebuster
Sit-Out Tombstone
Sit-Out Jawbreaker 1
Skull Crushing Finale
Sky High
Sling Blade
Slingshot Falcon Arrow
Slingshot Guillotine Leg Drop
Snap Swing Neckbreaker 2
Snapmare Driver
Snapmare Knee Smash 1
Snapmare Knee Smash 2
Sole Kick & Uppercut 1
Somersault Leg Drop
Spin Headlock Elbow Drop
Spinebuster 2
Spinebuster 3
Spinebuster 15
Spinebuster 16
Spinning Hammerlock Takedown
Spinning Heel Kick 4
Srpingboard Headscissor Takedown
Springboard Stunner 1
Squatting Indian Deathlock
Step-Over Heel Kick
Stinkface
Stone Cold Stunner 3
Straight Jacker DDT
Stump Puller
Stun Gun 2
Superkick 8
Superkick 9
Superkick 10
Superman Punch 2
Suplex City 1
Suplex City 2
Suplex Release Slam
Surfboard Facecrusher 1
Swanton Bomb 2
Sweet Shin Music
Swinging Rope Guillotine
T-Bone Suplex 3
Teardrop Suplex Combo
Texas Piledriver
That's A Wrap!
The Accolade
The DDT
Tilt-a-Whirl Backbreaker 2
Tongan Death Grip
Triple Back Elbows
Triple Clotheslines
Triple Headbutts
Very European Uppercut 2
Wheelbarrow Flapjack
Wheelbarrow Split-Leg Armdrag
Wheelbarrow Suplex 2
Whippersnapper
Wristlock Arm Drag 4
Zig Zag 2
WWE 2K16 sarà disponibile dal 30 ottobre su PlayStation 4, PlayStation 3, Xbox 360 e Xbox One.
Fonte: Segment Next