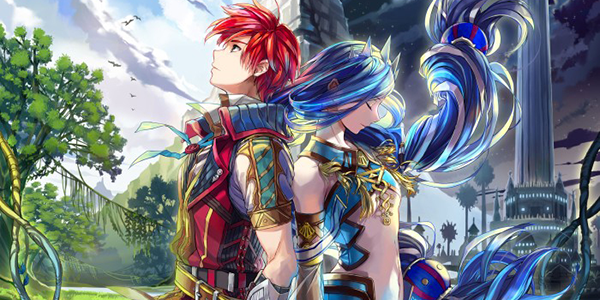 Ys VIII: Lacrimosa of Dana, gioco che sarà disponibile nei prossimi mesi in Giappone su PlayStation Vita e solo il prossimo anno anche su PlayStation 4, ci viene presentato nuovamente da Falcom con una serie d'informazioni e immagini per diversi personaggi e alcuni dei negozi che potremo trovare nel corso della nuova avventura di Adol il Rosso:
■ Characters

Cathleen (voiced by Sayaka Hirao)

"You redheaded punk… you couldn't possibly demonstrate sufficient power with a blunt blade like that."
A female blacksmith worker with a frigid and sharp discerning personality.

Her grandfather's name is known as a skilled craftsman in the Romun Empire, and she herself watched her grandfather from behind, inspiring her to become a blacksmith since she was young.

As a craftswoman, Cathleen's skills are certain, and limited to the facilities and resources of the Drifting Village, she single-handedly takes up the job of making weapons and armor for Adol and his party.

Aaron (voiced by Eiji Takemoto)

"Are you guys Lombardia passengers? All of you look familiar."
A member of the Romun Empire Imperial Military Police with a scary face and military temperament.

His home country sends him aboard the Lombardia Passenger Liner in pursuit of a perpetrator of a violent crime, but got rolled up in the shipwreck accident and was washed ashore by himself on the southern part of The Isle of Seiren.

Contrary to what you might expect from his large build, he is good with his hands, and will lend his power to the construction of village facilities and creations of tools for the sake of the other castaways.

■ System: Expanding the Drifting Village's Facilities

During your exploration of The Isle of Seiren, you'll rescue castaways with specific skills, like Cathleen and Aaron, who will establish facilities like the "Blacksmithery" and "Industrial Arts Shop" in the Drifting Village, which you can use to create new weapon enhancements and accessories.

Blacksmithery (Cathleen)
A weapon shop does not exist on the unpopulated Isle of Seiren, but if Cathleen constructs a Blacksmithery, you can "strengthen" and "drill" the weapons you own by bringing her specific materials, as well as create armor.

[Strengthening]

Raises the performance of a weapon you own and can further increase its attack power.

[Drilling]

By combining together specific materials with a weapon you own, you can create a powerful new weapon. (After drilling, the newly created weapon is automatically changed in your equipment. Drilling also changes the weapon's name.)
[Armor Creation]

Similar to strengthening and drilling, you can create armor for each character by bringing Cathleen specific materials.

Industrial Arts Shop (Aaron)
After linking up with Military Police member Aaron, and after you advance the story some degree, he will establish an Industrial Arts Shop.

In the Industrial Arts Shop, different from Cathleen's Blacksmithery, you can request Aaron create "Arm Armor" and "Accessories" that offer various stat boosts and special abilities.

Additionally, as Aaron is skilled with his hands, he as a special skill known as "Item Disassembly," which lets him disassemble the items you bring him, such as equipment you no longer need, so you can reuse them as materials.

■ System: Exploring The Isle of Seiren

Location Point
When you reach areas with terrain that stands out or superb views during your exploration of The Isle of Seiren, the site will automatically register on the map as a "Location Point."
Since the terrain around the discovered Location Point is automatically added to the map, you'll be able to proceed with your exploration of the island more efficiently starting from the Location Point.
Ys VIII, al momento, non è stato ancora annunciato in Europa.
Fonte: Gematsu